V
elocity

- Viva La Boom

Nach diesem Einspieler schaltet man auch direkt in die Halle, wo die Fans lautstark jubeln und zu schreien. Nun fährt die Kamera über die Reihe der Fans und diese jubeln als sie bemerken das die Hard Cam sie einfängt und heben ihre mitgebrachten Schilder in die Höhe und hier und da sieht man für wenn diese sind oder wer ihrer Meinung nach "suckt!" oder sogar woher diese gekommen sind. Aber nun schweifen wir zu den beiden Kommentatoren des heutigen Abend Mauro Ranallo und Don Callis.
Mauro Ranallo:
Ladies and gentlemen, my name is Mauro Ranallo and my colleague is still none other than the notorious Don Callis! We welcome you to our third Velocity Network Special! Only on the 4Live Network for just $ 9,99 a month. Tonight we are live from the La Boom in New York City! And tonight, we have an incredible good card ready for you. There have already been some matches announced for today's show. But that's not all! We have much more in store for our fans! That's how we experience in our first match, a true show stealer. The Professional Low Ki, the indescribable Flamita, the Bastard PAC and the machine Brian Cage. One ring, four men, and there can only be one winner.

Don Callis:
Yes, a victory in that 4 way match should bring a lot to the winner. I've received a message from our new anonymous general manager that will give the winner of this 4-way a chance to get a title shot. I did not receive any information about which championship. But that doesn't matter, they are many options which championship it could be. It could be the Intercontinental Championship from nonone else than La Sombra after Wrestlemania or, the Internet Champion from El Toro Blanco Rush.... or maybe the winner team up with somebody and challange our new tag team champions the Lucha Bros after Mania. But that all doesn't matter, none of these guys are on the level of Salina de la Rentas Guys.

Mauro Ranallo:
You really think, the guys from the modern day impresaria Salina de la Rentass Promociones Dorado will make that upcoming pay per view a full success by winning all the gold? I know, that Promociones Dorado talents are damn good, but there opponents are also not so bad, like you think. Roman Reigns for example he wins the Intercontinental Championship in seconds from none other than the Panama City Playboy Adam Cole. Or the Young Bucks they reign Tag Team Champions, they have the Champions advantage in there scramble match. And in the Internet Battle Royal, there so many awesome talents, Jordynne Grace, Chad Gable just to name a few of them.

Don Callis:
Mauro you are wrong, Roman Reigns never wons the IC Championship from Adam Cole. He steel it! He is not a real champion! He treats the championship, the honor of gold like dirt. Solely an exceptional talent like La Sombra can bring the honor back to the intercontinental championship gold! La Sombra will become the first Mexican 4LIVE Intercontinental Champion in history! And there is nodoubt about that fact, that the Lucha Bros Pentagon Jr. which will be in our Main Event tonight against the Draw Sami Callihan in a hardcore match.

Mauro Ranallo:

But let's not forget one thing! The new scoring system from Velocity! Here, victories and defeats mean something! Here it means something to have a match! As in European football, a win brings in three points. A draw brings just one point, while a loss does not score. But you get a half point per contest! These points system is to emphasize the sporty nature of Velocity! Points mean reputation! Reputation means unique opportunities. Here at Velocity is no place for a bad reputation. But let's start with the show!
Man zeigt noch einmal die Fans, welche lautstark jubeln und sich auf die heutige Card freuen. Es ist wahrlich wieder eine unglaubliche Card heute Abend. Matches wie Pentagon Jr gegen Sami Callihan sind nur der Anfang der schier endlosen Möglichkeiten. Aber nun schaltet man auch in den Ring, in welchem sich nach ihren Entrance nun beide Teilnehmer des Openers befinden.
....
4-Way Match

Trey Miguel vs Brain Cage vs Flamita vs PAC
Kurzbericht:

Pac konnte sich den Sieg schnappen, in dem er Flamita nach einem Red Arrow pinnte. Kurz zuvor war Brian Cage kurz davor nach einer unglaublichen Powerbomb gegen Trey Miguel das Match zu gewinnen. Doch PAC warf Brian Cage aus dem Ring, Flamita wollte ebenfalls den Sieg abstauben in dem er PAC einrollte, doch dieser konnte schnell auskicken und schaltete letzt endlich Flamita mit einem Superkick aus, ehe er seinen Red Arrow zeigte.
Winner via Pinfall:

PAC


Matchtime:

15:41

Mauro Ranallo:
PAC did it again! He has expanded his winning streak and is now facing a future Championship Match. PAC also lead the new points system. With a full seven points, the bastard as he calls himself is at the Top of Velocity. While the Machine is now three points behind PAC. But Cage will not like the way the victory was taken from him.

Don Callis:


Who would have expected a different result? This is not old Neville! This is not the man who bumped around! This is the new PAC! This is the bastard and this one is now at the top! If you like it or not, PAC is on Top of the Velocity Scoring System and also he has a future title shot in his chase. Who could stop that man to become a 4live Champion once again?




...

Es wird Zeit für einen Video Einspieler. Zu sehen ist niemand geringeres als die Red Witch Taeler Hendrix, jene befindet sich für ihre Person, wie wir sie bisher kennen gelernt haben, in einen ungewöhnlichen Umfeld. Außerhalb der Halle, schick angezogen, ein luftiges Sommerkleid, einen Hut eine Sonnenbrille und auf ihren Lippen ein freundliches und charmantes lächeln.
Taeler Hendrix:
Oh, there you are! I have been waiting here long enough! I used my day off to rummage through something in the past. The past is what has made us what we are. But, I did not look at my past... no. I know my past and now I know my future! So I also know the future of none other than Thea Stratus. The bastard of a daughter. Yes Zelina I know your future! I know your dirty and pathetic past. I know your crippled emotional world, your pathetic actions. Now I know how pathetic you are. You are not capable of so many! And that's all ... not your fault! It is the fault of the sins of a bitch. A bitch with the name of Trish Stratus. But we all know this story, we all know the hatred of your family. The rejection. Zelina, you can put a name, you can reject your past. But your blood makes you a Stratus Slut forever. And since your mother is dead for you ... what does that make you? Right, you are dead inside. You are nothing more than a pathetic empty shell. You're already broken, you're a pile of shards that somehow got stuck together. There is no Ghoust in your Shell! Your shell is the last thing left to you. And now, I know how to break this shell, how to finish the chapter Thea Stratus forever. But the end of your miserable and sad story is also the end of the bitch's bloodline! Oh, Zelina, if you still have not understood it! I want your blood at Wrestlemania! I want the blood of the slut! I want the blood of the wretched Stratus bloodline! And when I stand over you with the World of Stardom Championship at the end of our match. If I stant where you never stood, because yo live always in the shadow of your bloodline... Then I'll be better than you ever were. Then my bloodline will became immortal, and your bloodline of hate, of shame will become extinct. Zelina If you don't understand... I will beat you, I will break your shell! I will beat you in a first blood match! And trust me... I will show no mercy... like a real Stratus. There will be no Kiss Goodnight for you, there will be only that what you deserve... your end. There is only one way for you... Hail Hendrix!

Von der anfänglichen freundlich erscheinenden Taeler Hendrix ist nun keine Spur mehr zu sehen. Weder in ihrer Ausstrahlung noch in ihrer harten Wortwahl für Zelina Vega.
Mauro Ranallo:
The story between Zelina Vega and Trish Stratus is indeed not pretty. But Taeler Hendrix seems to consciously stir up old wounds. Hendrix is almost self-assured. Her plans for Wrestlemania now seem to be only one step ahead of what we believed. First Blood, this may be due to the hatred that is in the bloodline of Zelina Vega. But Hendrix seems to know how to break this shell of Zelina.

Don Callis:

Is it just me, or does this type of women turns me on? Anyway, very harsh words indeed, but we know the story between mother and daughter, but what else has Hendrix found? One thing is clear, Hendrix breaks Zelina before her match. It might be, the hardest fight of Zelina Vegas life at Wrestlemania. If we can trust Taeler Hendrix words, than we will see the end of the Stratus Dynasty... we will see the end of that bloodline.
...
Single Match

Daniel Bryan vs Drago
Kurzbericht:

Es war ein Kampf auf Augenhöhe, sowohl Daniel Bryan, als auch Drago zeigten ihr ganzes können. Während des Matches stand sowohl der American Dragon Daniel Bryan, aber auch Drago kurz vor einem Sieg. Doch letzt endlich war es Daniel Bryan, welcher es schaffte seinen Gegner in einem Yes-Lock zum abklopfen zu bewegen.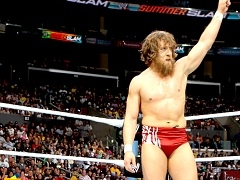 Winner via Submission:

Daniel Bryan


Matchtime:

9:34

Mauro Ranallo:
Daniel Bryan has defeated the Luchadore of Salina de la Renta and now seems to be on the path to a match with the white bull RUSH. He also makes one thing clear with this victory, he has forgotten nothing in his absence. Technically, he is behind PAC, behind Brian Cage. But that's just a matter of time. That could change at our next show, if Daniel Bryan beat Rush or another Luchadore from Salina de la Renta.

Don Callis:


Daniel Bryan, should wish that he does not get RUSH. As good as the American Dragon is, he is not on the level of El Toro Blanco! With another victory and another defeat of Cage, Daniel could pass this one. Don't get me wrong, but Velocity is now a place, where Victorys matters... and with the prestige of the big W, there come unique chances.




...

Die Kameras schalten nun in den Backstage Bereich, es ist im Hintergrund noch die Theme des American Dragon Daniel Bryans zu hören. Vor der Kamera steht nun niemand anderes als der Bastard PAC. Auf seinen Schultern liegt der Open The Dream Gate Championship der Dragon Gate Promotion aus Japan. PAC wartet kurz bevor er mit seiner Siegespromo anfängt.
PAC:

I did what everyone expected me to do... I get the victory! Anyone who would have expected the Machine Brian Cage to get the victory, is just a stupid and foggy. There is no chance, that anyone can stop the new PAC... there is no chance, that anyone could stop my run! I am no more the King of Cruiserweights! I am much more! I am a very, very dangoures man! So there are some rumors, that I will get a title shot in the near future. That I will get the chance to win 4Live Gold once again. But! That doesn't matter for the Bastard! That doesn't matter for me! I am the reign Open The Dream Gate Champion! For over 159 days I am undefeated! So there is no one! no one which can beat me, for that Dragon Gate Gold! I am allready a champion! I don't need 4Live Gold! BUT! I will take that opportunity and broke the dreams of all that other melvins! Ladies and Gentlemen... tonight was just another victory for the bastard... you should get used to IT! I will make that show to my kingdom! I will make that show to the show of the bastard! And trust me... There is no one... no one which can end the reign of the king... There is no one as mean and treacherous as the bastard! Ladies and Gentleman... my name is PAC and I am your King!
Mit diesen sehr selbstsicheren Worten beendet PAC seine Promo. Seine Siege unterstreichen seine Pläne, sein Punktestand lässt ihn ebenfalls in diesem Lichte erscheinen, für PAC scheint es aktuell einfach zu laufen.
Mauro Ranallo:
Yes it's true! PAC is on his way on the top. No doubt about that! But he's here at Velocity just 2-0, and that can change very soon. We've a Roster full of hungry fighters, a Roster full of amazing talents from all over the world. There is no doubt about the fact, that the Bastard is damn good, there is no doubt about it, that no one can beat him for that Dragon Heart Gold for over 159 days... But everything ends some time. And at our next bout La Sombra has the chance to get on the second place, with five points... if La Sombra can get the like you said the big W.

Don Callis:

There is no way, that anyone can stop that new PAC. There is no way, that somebody can dethrone PAC! For the moment, and I am sure for a long time... PAC is the King of Velocity! The Bastard leads that Show, and I've no doubt about that, that it will be a hard fight for PAC to stay on top. With awesome talents like La Sombra, like Brian Cage or like Daniel Bryan.
....
Single Match

Puma King vs La Sombra
Kurzbericht:

La Sombra hat keinerlei Probleme mit Puma King und bearbeitet diesen nach blieben. Hingegen, kann Puma King sich immer wieder im entscheidenen Moment retten, Puma King wäre auch beinahe der Clou gelungen nach einer Victory Roll. Doch La Sombra kann sich mit einem Kickout im letzten Moment retten und macht den Sack zu mit dem Sombra.
Winner via Pinfall:

La Sombra


Matchzeit:

2:55
Mauro Ranallo:
A very fast victory of La Sombra in this match! This increases La Sombras placement in the new point system and he is now directly behind PAC. This victory, however, was not only important to get important points. No! This victory was also important to show Roman Reigns that he is no challange for La Sombra.

Don Callis:

Haha do you know, how many points that Puma Joke now have? Right! Just one point! There is no way, that such a Lucha has a chance to be on top of Velocity! But anyway, yes it was a very important victory for La Sombra and Salina de la Rentas Promocionness Dorado! And at Wrestlemania, La Sombra will become the first ever mexican Intercontinental Champion!
....
Wieder schaltet man in den Backstage Bereich. Oder wohl eher gesagt in einen Bereich hinter der Halle. Dort scheint ein Teil des Geländes abgesperrt zu sein damit dieses für Passanten ect. nicht betreten werden kann. Hinter einem Gittertor befindet sich niemand geringeres als der Draw Sami Callihan, welcher heute im Main Event gegen Pentagon Jr. ran muss.
Sami Callihan:
Look tonight... they gave me... Pentagon Jr or Penta El Zero M... First off all, I don't care which name that Luchador has... even if he calls himself Pentagon Dark or Pentagon White. At the end of the day, he's just a man with a goofy mask... just a man nothing more... And tonight, I will hurt that man pretty bad. Why? maybe because I am angry about the fact, that he and his brother gets a shot, that Joe Gacy and I never get... maybe because I hate his stupid mask... or maybe I just like it to hurt people. Pentagon, I don't care if you understand me or not... I don't care that you and your brother might be the next World Tag Team Champions. But there is One thing I care about. The Fact that you say... Zero Miedo! The fact that you think you have no fear... Penta Boy, tonight I will show you, that you know fear... tonight I will give you a damn good reason to fear... After our match, you will know why you should fear Sami Callihan, after our Hardcore Match... when the doctors tells you... or your pimp momma, Salina de la Renta... that you can not compete at Wrestlemania... There is one thing I want to do... I want to hurt you... pretty bad... Thumbs up! Thumbs down!

Callihans Ziele dürften klar sein, er will heute Abend Pentagon Jr entweder besiegen oder wehtun. Jedenfalls scheint die Callihan Death Machine bereit dafür zu sein, sich heute eine harte Schlacht mit dem Mann ohne Furcht zu liefern.
Mauro Ranallo:
Sami Callihan should hope the Pentagon Jr. did not notice that. The Callihan Death Machine hits without a hitch on one of the hardest luchadores you can have as an opponent. Why does Sami spur them on? Does he have a death wish?

Don Callis:

I don't think so. Callihan might be some kind of a dangerous person, but in all that chaos and mayham, is always a plan. Maybe the Draw try to get in the head of Penta... maybe he want to show us, why he and Gacy should be at Wrestlemania and not the Lucha Bros. But one thing is for sure... that will be a hell of a fight.
...
Stardom Division
Single Match
Killer Kelly vs Diamanté
Kurzbericht:

Killer Kelly liefert sich einen harten Fight gegen Diamanté. Beide bringen sich, gegenseitig ans Limit. Es gibt eine Phase im Match, welche viele Nearfalls doch keiner der Beiden kann den Sack zumachen, Killer Kelly versucht Diamanté mit einem Dragon Sleeper zur Aufgabe zu zwingen, doch Diamanté rette sich ins Seil. Diamanté hingegen kann Killer Kelly einige Diamanté Cutters verpassen. Doch jene führen nur zu Near Falls. Während des Matches geht der Ringrichter KO. Diesen Moment nutzt eine unerkannte aus und stürmt in den Ring packt sich Killer Kelly und verpasst dieser einen Hammerlock DDT.
Nun erkennt man das sich hierbei um niemand geringeren als Bullet Clubs Own Tessa Blanchard handelt. Die Fans buhen lautstark und Tessa packt sich Diamanté und legt diese nun auf Killer Kelly, nun zieht sie den Ringrichter zu den beiden und dieser fängt langsam an nachdem er wieder wach wurde, zu zählen. Es reicht natürlich zum Sieg.
Winner via Pinfall:

Diamanté


Matchzeit:

19:23

Mauro Ranallo:
Oh my! Why is Tessa Blanchard stealing Killer Kelly's victory? Why is the Bullet Babe helping Diamanté to get the victory? What problems does Tessa Blanchard have with Killer Kelly? Anyway, the point is that Tessa Blanchard not only took the chance for her first victory with her intervention Killer Kelly, but destroyed an incredibly good match.

Don Callis:


Mauro, let's face the facts... Diamanté earns tonight in her first Velocity Match three and a half points. Killer Kelly on the other side earns just a half point... do you know, what that means? Kelly has now just one and a half point on her score... That Portuguese Girl is now zero to three... Kelly is on a bad losing street... Yeah, her matches are great... but at the end of the day, the victory matters. And I don't know, what Tessas Problem is... but I think, we will find out very soon.




...

Erneut schalten die Kameras in den Backstage Bereich, zu sehen ist niemand geringeres als der First Couple of Wrestling, Mike Bennett und seine Frau Maria Kanallis-Bennett. Jene werden von den Fans in der Halle ausgebuht, doch das interessiert diese beiden nicht im geringsten. Für sie ist dieses buhen nur der Beweis dafür, dass die Fans neidisch auf sie sind.
Mike Bennett:
Ladies and gentlemen, my name is Mike Bennett and I am the only true Miracle. Tonight... I do not have a great opponent again. It's a shame how to handle my talent. Why do I only get all these failures as opponents? And it doesn't seems to change any time soon... look at my match at wrestlemania... such a pool of failures... Lars Sullivan... he looks like a big stupid monkey without a brain... Chad "Copy" Gable... wow... who needs another Kurt Angle Ripoff? right nobody! And what about Lacey Evans... she call herself the first Laddy of Wrestling? Oh that crack whore is such a fool... there is only one person, which has the right to call herself the first Lady of Wrestling... and that person, is my wonderful wife and best friend Maria Kanallis-Bennett. I could list further, what losers are still accused me ... but the worst ... Today I have again a failure as an opponent. Jordynne Grace... you challange me to a match? Are you sure, that you have a chance to get the vicotry over the best Wrestler of all time? No... there is no chance. I don't care if you call yourself Thick Mama Pump, Grace... you challange me... you disrespect me and my wife and for that reason... you will pay. I will make sure, that you will not made it to wrestlemania! I will break you! I will hurt you... and of course I will beat you. There can only be one Winner! There can be only one true Miracle... And his name is Mike Bennett.

Selbstsicher grinsend endet diese Mike Bennett Promo nun. Er und seine Frau sind sich des Sieges sicher. Grace wird für ihre Respektlosigkeit bezahlen, wenn es nach den beiden hier geht. Doch die Fans buhen immer noch, auch kurz nachdem das Couple verschwunden ist.
Mauro Ranallo:
Mike Bennett is filled with self-confidence. But the question is, how long will that last? Tonight Thick Mama Pump could give that self-confidence a hugh damper. And this just before Wrestlemania! Where Mike Bennett and Jordynne Grace stand in the Battle Royal for the new Internet Championship. But I don't understand, who Mike can call Grace just another unworthy opponent for himself?

Don Callis:

Boy oh Boy! One of them will lose tonight... As simple as that! But I don't know if it will be the one and only Miracle of Pro-Wrestling Mike Bennett or Thick Mama Pump Jordynne Grace, or like I too call her The Woman Beast. Anyway, Bennett should expect a very hard fight against a talent like Grace... Both of them, can reach the seven points tonight, either Grace or Bennett will be on top of the List, on side with the Bastard PAC.
...
Intergender Match

Mike Bennett vs Jordynne Grace
Kurzbericht:

Mike Bennett unterschätzt zu beginn Grace erheblich. Dies büßt er schnell, und so kann Thick Mama Pump einige harte Schläge landen, welche Bennett in die Ecke treiben. Mike muss sogar einen Spinebuster einstecken. Von da an, versucht Maria für ihren Mann einzugreifen, ihr gelingt es hier und Jordynne Grace abzulenken so das Mike Bennett wieder ins Match kommt. Mike gelingt der Miracle in Progress, doch dieser führt nicht zum 3-Count. Mike bearbeitet Grace weiter und versucht es nun mit einem Photo Finish TKO, doch auch dieser führt nicht zum Erfolg. Als Grace sich wieder zurück kämpfen kann, will Maria eingreifen. Dies gelingt ihr, doch der Ringrichter bekommt dies mit und wirft Maria aus der Halle. Mike Bennett ist alles andere als Happy darüber und legt sich mit dem Ref an. Dies kann Jordynne Grace nutzen um Mike Bennett eine Jacknife Powerbomb zu verpassen, jene führt zum entscheidenden Fall.
Winner via Pinfall:

Jordynne Grace


Matchzeit:

9:43

Mauro Ranallo:
Mama Mia! What a match! Mike Bennett and Maria have tried every trick that was possible for them to win here. But how easy it was for Grace to lift Mike Bennett, who weighs almost 25 kilograms more than Thick Mama Pump herself! A very important victory for Grace, not just for her match at Wrestlemania. No but here for you in Velocity!

Don Callis:


Like I told you, that woman is a beast! Now, Thick Mama Pump and the bastard are number one in the scoring system. But the question is, is this system matched to Intergender or separated by division? Anyway, PAC and Grace both have seven points in the account and none other than Kelly Klein could come to this today.




...

Wieder einmal schalten die Kameras in den Backstage Bereich. Vor der Kamera ist nun niemand geringeres als der Neuankömmling bei Velocity. The Diamond Herself, das erste Bullet Babe Tessa Blanchard. Diese zeigt sich überheblich vor der Kamera. Kurz zuvor am Abend, hat sie dafür gesorgt das Killer Kelly ihre dritte Niederlage in Folge kassieren musste und somit weit hinten im Punkte Ranking sich befindet.
Tessa Blanchard:
Oh, is that really the only thing you want to know? Why did I cost Killer Kelly her vicotry over Diamanté? Why I chose her to make an impact on my first appearance at Velocity? If you think it's personal, you're dumb. Killer Kelly, is seen by the fans as a big drawn... She walks and talks, like that Division here at Velocity is her Queendom! But there is some reallity check for Killer Kelly, she isn't a big drawn, she is not the Queen of Velocitys Stardom Division. Killer Kelly, you are 0 to 3 now... What did you have achieved to be somekind of a big deal? Yes, you lose to girls like Shayna Baszler and Alexa Bliss... Wow, you almost got the vicotry by made Shayna tap... and you almost beat Alexa for her Future of Stardom Championship. But at the end, you lose. I'm here! Because there is no one better than me to make this division legit! I am here, to make that Stardom Division her at Velocity legit! And I chose you Killer Kelly as my first victim, to prove that there is no one better than Tessa Blanchard! I am a born Legend! I am this Division!

Nun verlässt Blanchard die Szene und nun ist klar, was ihr Ziel war und ist. Sie hat Killer Kelly als Aushänge Schild der Womens oder Stardom Division hier bei Velocity gesehen. Oder besser gesagt als everybodys Darling. Die Geschichte dürfte mit heute nicht erledigt sein, sicherlich hat Tessa noch etwas geplant und ohne jeden Zweifel dürfen wir auf eine Reaktion von Killer Kelly hoffen.
Mauro Ranallo:
Now it's clear why Tessa Blanchard stole the victory from Kelly. I don't like that way, which Tessa chose. But she deliberately chose Kelly. In the past shows Killer Kelly could prove herself, in great matches against Champions like Shayna Baszler or Alexa Bliss... But now Tessa Blanchard pretends that Killer Kelly prove to herself, Tessa pretents that she is without a doubt on the top of this division... To be honest... when somebody has to prove a lot her at Velocity, than it's Tessa Blanchard herself.

Don Callis:

Mauro, in fact, killer Kelly could convince in the past. But never a victory came out. In the end, only the victories count and Kelly knows that and knows Tessa. But you're wrong, Tessa has nothing to prove! Tessa Blanchard is pound for pound one of the best fighters we've ever seen in wrestling. She is the reason, why now that Stardom Division her at Velocity is legit... and for that fact every girl here should thank her for that.
...
Stardom Division
3-Way Elimination
Allie Kat vs Kelly Klein vs Xia Brookside
Kurzbericht:

Bevor es überhaupt zu Allianzen in diesem 3-Way kommen kann, hämmert Klein ihre beiden Gegnerinnen zu Boden. Beide sind erst einmal machtlos gegen diese Kraft welche Kelly Klein hier aufbringt. Klein agiert hart und schnell, ihre Überlegenheit lässt sie kurzfristig etwas nachlässig werden und Allie Kat und Xia Brookside gelingt es mit einem Double Team Move gegen The Pretty Badass Kelly Klein wieder ins Match zu kommen. Doch das ändert alles nichts daran, das Klein beide zeitgleich einen K Power verpasst und zusammen pinnt.
Winner via Pinfall:

Kelly Klein


Matchzeit:

7:12

Mauro Ranallo:
Mama Mia! What a vicotry for the Pretty Badass Kelly Klein! She just beat not one... but two opponents. Kelly Klein is now with seven points on top of the Ranking. Alongside PAC and Jordynne Grace... But it's just a matter of time, until the paths of the Gatekeeper Kelly Klein and Thick Mama Pump Jordynne Grace will cross. That Don, is a kind of match up, that everyone in the Stardom Looker, everyone in the audience should want to see.

Don Callis:


Kelly Klein and Jordynne Grace dominate their path! And I agree with you, sooner or later we'll see Grace vs. Klein, and I'm sure that's going to be a rivalry that promises some great matches. But ultimately only time will tell how and when this happens.




...

Erneut schalten die Kameras in den Backstage Bereich, nach dem eindrucksvollen Sieg Kelly Kleins sehen wir nun ein Tag Team, welches heute Abend sein Comeback gibt. Die Rede ist natürlich von Bobby Fish und Kyle O'Reilly welche sich heute Abend noch einmal beweisen wollen.
Bobby Fish:

We! Kyle O'Reilly and myself Bobby Fish... we waited too long! Too long for our comeback! Too long to get a chance to prove to that fans that we are the best tag team in the world. We don't care if the Bucks or that Lucha Bros call themself the Best Team in the World or Universe... We know, that are just cute little nicknames for them. But for us, ReDragon, Best Tag Team in the World is not a gimmick, it's not that kind of nickname... It's a fact. And tonight we will show the Fans here in New York, that we are still the best! That nobody can touch us. Tama Tonga and Tanga Loa two other Bullet Club Members from Japan... Why should we fear these two? You beat up two ridiculous sports entertainers last week and now? Now they are here before their first real match here at Velocity.
Kyle O'Reilly:

That's right. We've waited too long! A year ago, Bobby and I, we won the Tag Team Championship. We made that Belts legit and now? We're here at Velocity... just One Year later... I don't care if we get those Tongans and... I don't care if we get Internet Darlings like Xavier and Wentz... Yeah they are good, I know that. They are a pretty good team... but pretty good isn't enough... Tonight will be a little lesson for the two BC OG's. A little lesson for the Rascalz ... the ReDragon are the uncrowned champions of the Tag Team Division. I hope for them, the don't wake up the dragon... I hope they are smart enogh to play by the rules... If not... they will chasing the Dragon. That's not arrogance... That is Undisputed!
Mit dieser Pharse verlassen wir nun dieses Backstage Segment. Beide sehen sich noch als das Top Tag Team an, beide sind sehr sicher und bereit für ihre Gegner.
Mauro Ranallo:
ReDragon is back! But can they get the victory over great Teams like the Guerrlillas of Destiny or even the Outsiders in that match up, the Rascalz Dezmond Xavier and Zachary Wentz? Maybe ReDragon can get here tonight on a winning streak... maybe they can get on the top once again... but tonight, GOD and the Rascalz want to do the same thing. They also want to prove, that they should be on top of the Tag Team Division

Don Callis:

That is not easy... last week Tama and Tanga beats the hell out of that two piece of shit... It was some kind of puplic execution. But Bobby is right, that match which the Tongans had, was not a match against real fighters... it was a match against two silly sport entertainers. But Tonight we will see, the beauty of Tag Team Wrestling! But to be honest... The Rascalz... they are the Underdog.
...
Tag Team Division
3-Way Tag Team Match
ReDragon vs Rascalz vs Guerrillas of Destiny
Bobby Fish & Kyle O'Reilly vs Dezmond Xavier & Zachary Wentz vs Tama Tonga & Tanga Loa
Kurzbericht:

ReDragon und die Guerrillas of Destiny, beachten die Rascalz zu beginn nicht sonderlich und schalten diese mit Leichtigkeit immer wieder aus. So das die Anfangsphase des Matches ein Kampf zwischen den beiden Teams ist. ReDragon gelingt es recht früh, einen Near Fall zu erzielen nachdem sie Tanga Loa beinahe nach einer Total Elimination gepinnt hätten, doch Wentz konnte den Save machen, wenig später musste Wentz für seinen Einsatz den Guerilla Warfare einstecken, doch hier macht Dezmond den Save. Von da an, kämpfen die Rascalz mit aller Verbissenheit und ihnen gelingt es alle der vier anderen Teilnehmer auszuschalten, mit vielen Kicks, und Dives. Nun ist aber Tanga Loa allein im Ring mit den beiden und beide können ihren Assist Standing Shooting Starpress gegen jenen zum Sieg zeigen.
Winner via Pinfall:
Dezmond Xavier & Zachary Wentz - The Rascalz!
Matchzeit:
13:37
Mauro Ranallo:
Nobody expected this result! It seems that Dezmond and Zachary did not believe in their own victory! And now they have an important victory in the bank! Forget the scoring system for a moment! This victory was the perfect way to leave a first impression! The Rascalz went as underdog and went again as a winner!

Don Callis:

No doubt, the Good Bad Guy Tama Tonga will not like this result. Last week, he and his brother Tanga Loa, destroy... GOD was scathingly victorious and now? Now they get the lose... Of course it was the perfect way to leave a mark for the Rascalz... but on the other side... they are now on the hunting list of the Bullet Club OG's
...
Ein letztes Mal, ein letztes Segment vor dem großen Main Event. Dieses Mal, befinden wir uns in einem dunklen Raum. Dieses Mal ist es niemand anderes als der World Heavyweight Champion. Dieses Mal ist Jon Moxley derjenige welcher vor der Kamera steht. Bisher war er recht schweigsam, in der Zeit nach dem Rumble, in der Zeit als klar wurde er würde auf Matt Riddle treffen.
Jon Moxley:

Matt Riddle... do you think, you're the one who can beat the butcher? Do you think you are the chosen one to save them from the big evil insane Jon Moxley? Do you think you are the great Hero of our story? Maybe you are a kind of a hero, for some people... But I don't care about some people... I don't care what they want... I don't care what they need to be happy... All I care about is... my legacy. Matt let's face the facts. I know you want me so bad! You want finally to face the baddest dog in the yard. You want to face the Megadon in that big sea... you want to prove that you are not a big fish in a little pond... But like I said... I don't care what people want... I don't care what you want... But I respect that you want to prove to the world, that you can be a main event player. But who long did you need to get a chance for that title? a couple of months? no! a couple of weeks? no... or just a couple of days? no! You waited a god damn long year for your chance... You know, how long I need to get that championship at the first place? Right... just a couple of month... I stole the show at wrestlemania... I shock the world at wrestlemania... Matthew, if you think just one second about thinks like that... then you have to realize that you are no Jon Moxley... that your are not a GOD! You should be thankfull, that I chose the easy way for you to our fight... you should kiss the ground under my feets and thank me, thank me that I will make you... But Matt... Sometimes you have to go through hell to really see the heaven. But people like you Matt, will never reach heaven. People like you are destined to try and fall. Matt... The Butcher never lies! I always speak the truth... and the truth is... you will not be our next world heavyweight champion. Matt... I am better than the Best in the World... Matthew I am a GOD!
Mit diesen Worten, mit gewohnten abschluss Worten des World Heavyweight Champions. Des nun zweimaligen World Champions Jon Moxley. Endet diese Promo des Mannes welcher sich selbst als Insane Butcher bezeichnet hat, der Mann welcher so viele Nicknamen hat, doch eines ist bisher immer gewiss gewesen, der Butcher lügt nie.

...

Main Event
Hardcore Match

Pentagon Jr. vs Sami Callihan
Kurzbericht:

Beide schonen sich von beginn an nicht, beide starten sofort mit einen sehr stiffen Schlagabtausch. Welchen Pentagon Jr für sich entscheiden kann, in dem er harte Kicks gegen die Beine von Callihan zeigt. Doch The Draw findet schnell zurück und kann den Luchadore mit einer Gabel aus seiner Hosentasche ausschalten, einen Trick welchen er wohl vom Insane Butcher abgeschaut hat. Sami bringt nun einige Gegenstände in dieses Match, einen Tisch, eine Leiter, ein paar Stühle, einen Mülleimer und einige Silberplatten. Im weiteren Verlauf gelingt es Sami nachdem er Pentagon einige der Platten über den Kopf geschlagen hat, der Cradle Killer auf einen der Stühle. Doch Pentagon kickt danach aus. Nun versucht der Draw seinen Gegner durch den Tisch zu befördern, dies will er mithilfe des Get Out of Here! erreichen, doch Penta kontert. Penta packt sich einen Steel Chair und verpasst Callihan damit einen harten Headshot. Sami kippt auf den Tisch. Pentagon steigt aufs Ringeck und springt von dort mit einem Diving Double Foot Stomp auf Callihan. Doch hier auch nur ein 2-Count. Nun findet Sami unglaublicher weiße wieder ins Match zurück und versucht mit dem Headlock Driver auf einen der Stühle den Sieg zu holen, doch hier auch kein Erfolg. Letzt endlich ist es Pentagon Jr. Fear Factor auf die Mülltonne welche zum Sieg führt.
Winner via Pinfall:

Pentagon Jr.


Matchzeit:

23:45

...